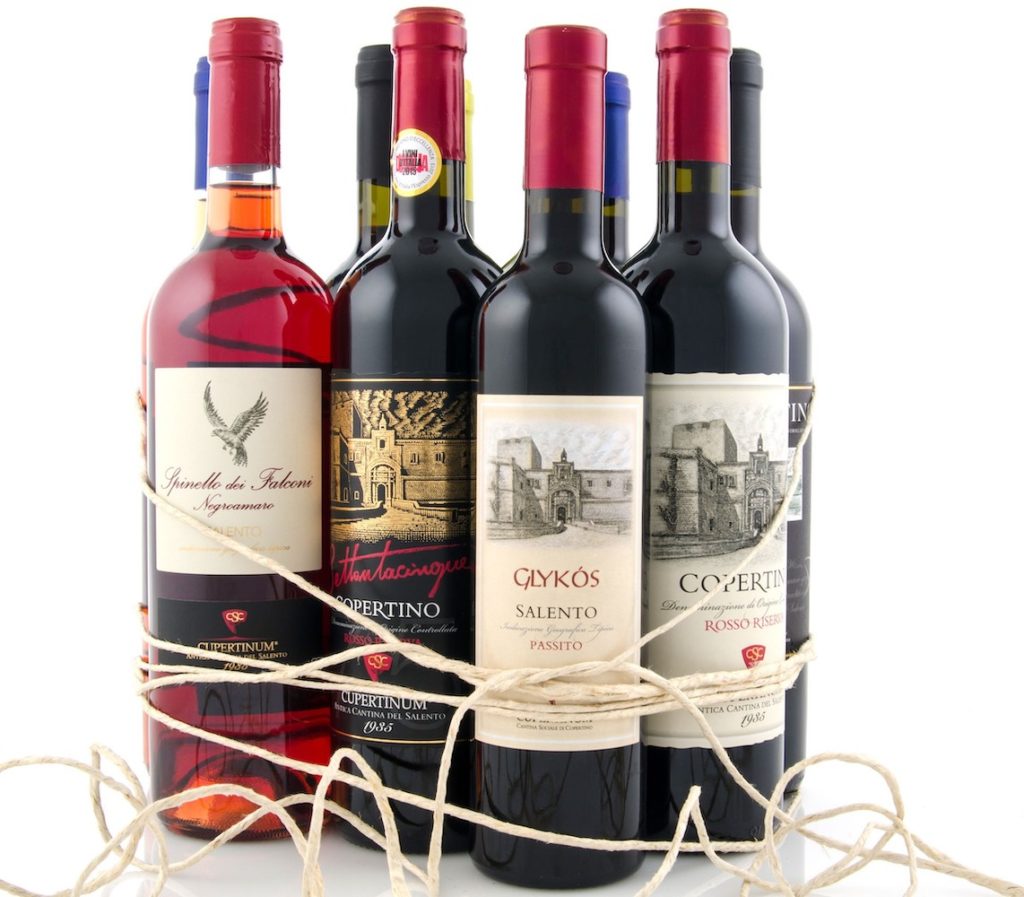 Here they are!
1. At the Wine Expo Poland 2019 two Gold medals and a Silver one. The International Jury of the Wine Expo Poland Awards prized with the Gold Medal the NEGROAMARO Salento Igt and the PRIMITIVO Salento Igt, and with the Silver Medal the COPERTINO Riserva Doc.
The Wine Expo Poland – which took place in Warsaw in October – is (with 2500 wines, more than 100 exhibitors, seminars, tastings, masterclasses) the largest trade fair not only in Poland but also in most of Eastern Europe. The Jury – composed of experts, journalists and sommeliers – awarded the three wines of Cupertinum claiming that "they are an expression of the Apulian territory, suited for Negroamaro and Primitivo, and are distinguished by elegance and harmony".
2. The GLYKÓS has been awarded by AIS Sommeliers. "Dear Cupertinum, with immense pleasure I inform you that your GLYKÓS 2017 Passito Salento Igt has obtained FOUR SCREWS, the highest recognition, at VITAE 2020, the Italian Wine Guide of the Italian Sommelier Association". With these words, Antonello Maietta, AIS president, announced the prestigious award obtained by the historic Winery from Copertino. It must be remembered that in recent years the Glykós has also received three times the AIS DolcePuglia Award.
3. The GLYKÓS has been awarded by the L'Espresso guide with 4 Bottles and it is among the 30 BEST PASSITES in Italy. The guide highlights all the Cupertinum's labels: "also this year a repertoire of wines of extremely rare centering" and the Cupertinum is defined as follows: "a winery that has restored luster to the cooperative viticulture in Puglia".
4. Decanter rewards the RISERVA COPERTINO DOC with the Silver Medal and 90 points! Already in 2018 the Cupertinum had received a Bronze Medal and two Certificates from the International Decanter Competition, with the following Salento IGT: Negroamaro, Spinello dei Falconi Rosato and Primitivo. This year the Cupertinum is still improving as this new important recognition demonstrates. The Decanter World Wine Awards is the largest international wine award. The wines of Cupertinum, especially reds based on negroamaro and primitive, have been appreciated by English critics for over half a century. Already in the 1980s Hugh Johnson – great old man of wine criticism who more than anybody else contributed to the wine literature and who is now a collaborator of Decanter – for the Sunday Times Competition awarded two Cupertinum's wines: the Rosato and the Copertino Doc. And again on Decanter, Simon Woolf expressed himself as follows: "the Cupertinum gives a brilliant example with its Copertino Riserva, really delicious ".
5. The 2020 edition of the SlowWine Slow Food guide prizes Cupertinum's SPINELLO DEI FALCONI, rosé, with the "Vino Quotidiano" award. The Wines awarded with this qualification are the "Excellent Wines under the organoleptic profile with an advantageous quality-price ratio". The Slow Food guide underlines the historical importance of Cupertinum and the quality level of its labels.
[ngg src="galleries" ids="5″ display="basic_thumbnail"]