The new international acknowledgment for the Winery from Copertino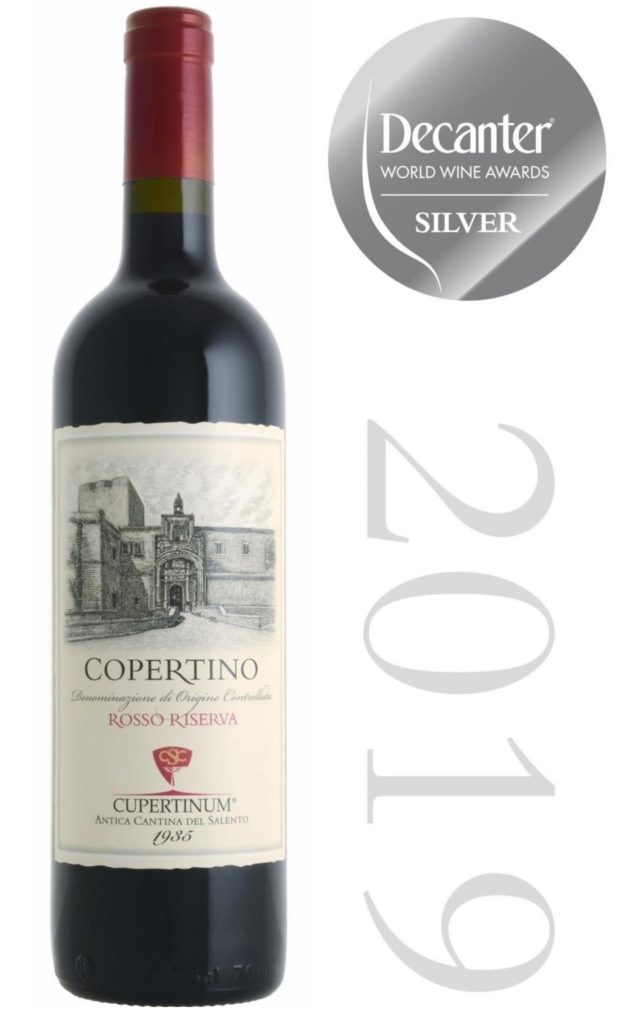 Decanter awards the Copertino Doc Riserva with the Silver Medal and 90 points! Decanter is one of the most powerful magazines in the world. Already in 2018, the Cupertinum received a Bronze Medal and two Certificates at the International Decanter Competition, with the Salento IGT: Negroamaro, Spinello dei Falconi Rosato and Primitivo. This year the Cupertinum is keeping on improving and this new important recognition prizes our endeavor.
Decanter, monthly magazine of wine culture in English, with its editorial board in Great Britain and distributed in 90 countries, organizes every year, since 2004, the Decanter World Wine Awards, the most important and attended international wine competition. The results of the competition will be published in the August edition of Decanter, but the communication, signed by director Steven Spurrier and his collaborators, has just reached us and our oenologist Giuseppe Pizzolante Leuzzi and president Francesco Trono immediately wanted to share this satisfaction with our associated members, with the community of Copertino and the whole Salento: "thanks to this international award. It will contribute to enhance not only these wines but also the territory and its touristic and cultural riches".
We remind that the Cupertinum wines, especially the red ones based on negroamaro and primitivo, have been appreciated by the English critics for over half a century. For example, Hugh Johnson, the great old man of wine critics, the contemporary author who more than any other contributed to wine literature, and now a contributor at Decanter, already in the '80s, with the Sunday Times Competition, awarded two wines of the Winery from Copertino: Rosato and Copertino Doc. And recently, on Decanter itself, Simon Woolf wrote: "Excess of wood from barriques is a widespread problem, but Cupertinum, one of the oldest and largest cooperatives in Salento, instead, gives a brilliant example with its Copertino Riserva, aged in vitrified tanks, really delicious". The labels of the Cupertinum "stand out for their elegance and an excellent relationship between quality and price". A winery that "has the talent to express the most visceral and sublime Mediterranean spirit in the bottle. An unmissable address for lovers of Negroamaro".